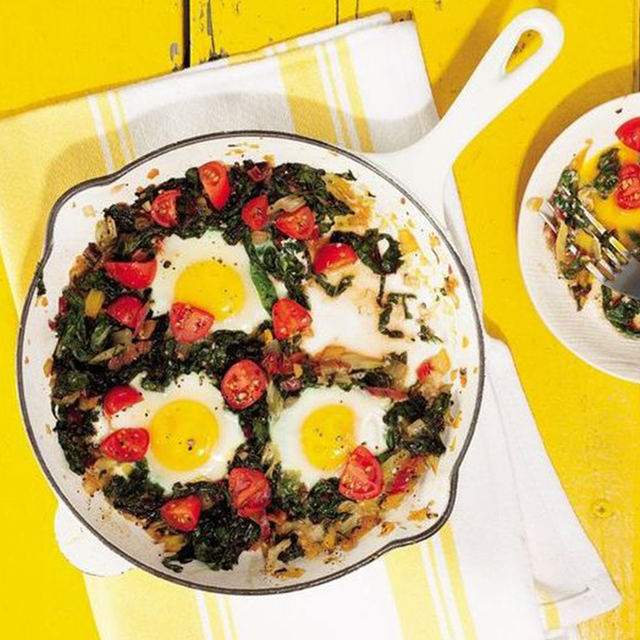 Sally's Baking Addiction/Hearst
When you want to slim down, start the day right by considering what you're eating for breakfast. "The research on breakfast and weight loss is mixed, so it really varies from person to person," says Karen Ansel, R.D.N., author of Healing Superfoods for Anti-Aging. "If you're a breakfast eater, remember that not all morning meals are created equal, so what you choose really matters. The key is to focus on nutrients proven to keep you full like protein and fiber. At the same time, you'll also want to steer clear of foods that are laced with sugar and highly processed carbs, which can cause blood sugar spikes that inevitably lead to midmorning hunger pangs." Need some creative and completely delicious options? We've got 20 right here. And remember this: "Even the healthiest ingredients can add on pounds if you overdo it," says Ansel, "so keeping an eye on portion sizes is key."
1
Chard Breakfast Skillet with Egg, Onion, and Tomato
2
Jillian Michaels' Berry Vanilla Smoothie
3
Spinach Tomato Frittata
"Even though protein is one of the most helpful nutrients for helping you feel full longer, it's woefully absent in many breakfast foods, so you really have to try to work it in," says Ansel. "Eggs are a great pick." There's so much goodness packed into this egg-based beauty—and it comes together in just 15 minutes! Each serving has a whopping 23 g of protein, plus it's full of veggies: not just spinach and tomatoes, but scallions too. And the mozzarella is a tasty bonus.
5
Mason Jar Scramble
This recipe could not be simpler, because it comes together in a mason jar, and you don't even need your stove: Just zap it in the microwave. The eggs are the protein boost, and juicy tomatoes and fresh spinach (plus a touch of basil) provide the veggies.
6
Smoked Salmon and Scallions Frittata
7
Tomato and Egg Stacks
This recipe has the added attraction of looking a lot fancier (meaning, harder) than it actually is! You can poach or fry the eggs, and the protein-veggie combination makes this a slimming treat.
8
Powerhouse Pumpkin Smoothie
"I'm a huge fan of dairy foods as a morning protein source, especially when you're short on time," says Ansel. So smoothies are a great choice, and the genius move here: Get yourself some pureed pumpkin and freeze dollops of it in an ice cube tray. And then use those little cubes for this frosty smoothie! Greek yogurt and flaxseed give it an extra nutritional boost, and avo gives it extra smoothness plus a bonus veg. Add a dash of pumpkin spice (it's good year-round!).
9
Green Breakfast Burrito
A burrito for breakfast? Oh, yes! This has a protein punch from the eggs, healthy fats from the avocado, and lots of fresh veggies. All wrapped up in a warm tortilla — yum! To up the nutrition, add some black beans. "Beans are a perfect, yet often overlooked, breakfast food. They're packed with fiber and protein," says Ansel.
10
Blueberry Muffin Granola Greek Yogurt Bowl
This is a bit time-intensive, because you start by making your own granola….but it's blueberry-muffin granola! With all sorts of nutty (protein-rich) goodness, like pepitas, plus seeds like chia. Combine that with the filling Greek yogurt and fruit toppings, and you've got a splendid way to start the day.
11
Banana Oat Breakfast Cookies
What a wonderful combination of words: Breakfast + Cookies. With these breakfast cookies, the natural sweetness comes from the banana plus applesauce (and a little added honey), and the peanut butter gives it a nice protein boost. Chocolate chips are optional; don't add them if you want to keep the cals low. (Or add just a few. Yum.)
12
Chia Pudding
Chia is a potent little seed that's a great source of both protein and omega-3s. This recipe includes a granola topping, but to keep this a slimming dish, skip that and just top it with your fruit of choice and a tablespoon of chopped nuts.
13
Skinny Peanut Butter Banana Muffins
I've made these twice in the past week. I love that they're made with Greek yogurt and just enough PB to give them a lovely protein shot. I used maple syrup (and cut it down to 1/8 cup, because I wanted less sweetness) and skipped the add-ons, like chocolate chips. They freeze beautifully!
14
Ham, Spinach, Cauliflower Rice Breakfast Muffins
Great idea, to get even more veggies into these nibbles by using cauliflower rice. (Vegetarian? Sub in sauteed mushrooms or butternut squash.) The mustard powder and the pinch of cayenne give them a nice gentle kick. They last 5 days in the fridge, so you can get a workweek's worth of healthy breakfasts!
15
Cucumber-Pear Smoothie
16
Poached Egg and Avocado Breakfast Salad
Salad for breakfast! "Veggies are loaded with fiber and nearly calorie-free, so they're a great choice for breakfast especially if you're trying to eat fewer carbs," says Ansel. Between the eggs and the quinoa, this dish is loaded with protein. The pistachios give it a nice crunch, and there are plenty of veggies to make this a slimming pick.
17
Wild Blueberry Beet Smoothie
18
Vegan Curried Tofu Scramble
You get plenty of food on the plate with this recipe, including tofu, a protein powerhouse. Loads of veggies, including mushrooms, peppers, and greens, and a nice blend of spices, including curry powder and cumin. Great option for vegans!
19
90-Second Blueberry Breakfast Quinoa
Quinoa is loaded with protein, and since it's digested slowly, it keeps you full for awhile. "Studies show that people who eat more whole grains tend to weigh less most likely because whole grains are loaded with filling fiber," says Ansel. You can use fresh or frozen blueberries, but if you want this gorgeous purple color, go for frozen. The nut butter gives you an extra protein boost, and there's an option to add protein powder as well. Need it a little sweeter? Add a dash of maple syrup.
20
Quinoa Breakfast Bars
A grab-and-go/make-ahead option: delicious breakfast bars made with quinoa and blueberries (or any berries….or chocolate chips, though that defeats the "good for weight loss" thing!). They have the protein punch of quinoa, nut butter, and oats, and a genius ingredient: unsweetened applesauce. Plus there's a dash of cinnamon (I like Simply Organic's).
This content is created and maintained by a third party, and imported onto this page to help users provide their email addresses. You may be able to find more information about this and similar content at piano.io


Source link Fit Fast Breakfast