Even if you aren't participating in the keto diet, you should keep some keto recipes on hand for your weekly meal plan. Made to be extremely low in carbs, these types of foods are a great way to ensure a healthy meal – even if you only eat keto foods every once in a while.
When you're planning weeknight meals, the best recipes are those that don't take too much time to prepare. So we pulled together some delicious, easy recipes that only take 20 minutes or less to make. Read on to see what we found…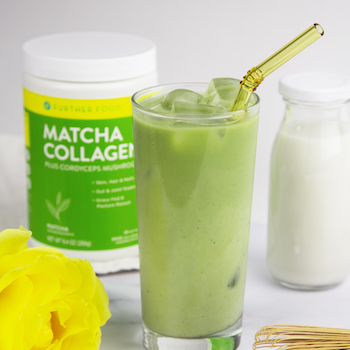 This Collagen-Packed Matcha Is The One Drink You Need To Have Everyday For Wrinkle-Free Skin
1. Garlic Chicken With Broccoli
This recipe is flavorful yet healthy, as it combines cheese, leafy grens and protein. The best part is that it is done in just 15 minutes.
Ingredients
– Chicken breast
– Italian seasoning
–  Broccoli florets
– Baby spinach
Get the full recipe from Gimme Delicious.
2. Keto French Toast
Classic French toast might not be keto friendly, but this recipe uses a homemade keto bread alternative so you can get the same type of taste as the original, with way less carbs.
Ingredients
– Almond flour
– Flaxseed meal
– Egg
– Almond milk
Get the full recipe from Gnom Gnom.
3. Portobello Pizza
If you like mushroom pizza, this recipe is for you. It uses a large, portobello mushroom in place of the pizza crust, and the same types of ingredients on top.
Ingredients
– Portobello mushroom
– Marinara sauce
– Italian cheese blend
– Pepperoni slices
Get the full recipe from Healthy Recipes Blog.
4. Chicken Lettuce Wraps
Lettuce leaves are a common alternative to wraps in keto recipes, and some people even prefer them. In this recipe, the lettuce adds just the right amount of crunch.
Ingredients
– Lettuce
– Chicken
– Walnuts
– Raspberries
Get the full recipe from Brit.co.
5. Shrimp Fajitas
With only 7.5 grams of net carbs and 43 grams of protein, this recipe is an easy way to make a keto meal. It all cooks on one sheet pan, so clean up is just as fast as the prep time.
Ingredients
– Raw shrimp
– Yellow pepper
– Cilantro
– Lime
Get the full recipe from Stay Snatched.
Shutterstock
6. Baked Avocados
Full of flavor and high in vitamins, this baked avocado recipe is great for your metabolism and low in carbs. The whole meal only takes a few minuets to prepare.
Ingredients
– Avocados
– Green chili
– Cherry tomatoes
– Eggs