When it comes to a well-balanced diet, it's important to prioritize nutrient dense dishes for each meal of the day. A good breakfast will include a healthy mixture of protein, fats, and carbs in order to keep you full throughout your morning and feeling the best you can in your body. If you've been uninspired by your breakfast options as of late, below are four dietitian approved recipes to try out for easy weight loss and less inflammation.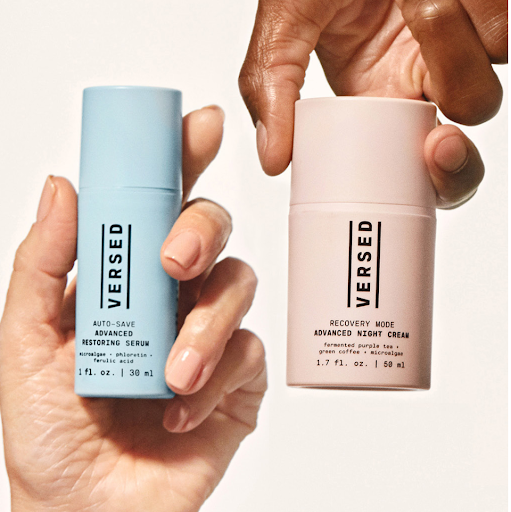 The Skincare Combo That'll Take Years Off Your Face
Shutterstock
Baked Oatmeal Bars from RD Trista Best
Oats are a great slow-releasing carb that will help to keep you full for hours while remaining low in calories and high in other nutrients. "This recipe is full of fiber-rich ingredients that will keep you full throughout the morning and prevent overeating. It is full of flavor provided by nutrient dense food and spices," explains registered dietitian Trista Best.
Ingredients: 2 cups rolled oats, ¼ cup pecan pieces, 2 tsp baking powder, 2 tbsp cinnamon, 1 tsp allspice, 1 tsp kosher salt, 2 ripe bananas, 1 cup non-dairy milk, ¼ maple syrup, 2 tsp pure vanilla extract
-Preheat the oven to 375 degrees Fahrenheit 
-Mix the dry ingredients 
-Place dry ingredients in greased pan 
-Mix wet ingredients 
-Drizzle milk mixture over oats 
-Bake for 45 minutes 
-Once cooled, top with bananas and nut butter 
Shutterstock
High Protein Smoothie from RD Diana Gariglio-Clelland
"This breakfast smoothie is filling due to its protein content. Protein helps to make you feel full and reduce the urge to eat shortly after a meal, which can help aid in weight loss," explains RD Diana Gariglio-Clelland from Next Luxury. "Adding nuts, seeds and oats can boost the fiber content, which can also help boost satiety. Homemade smoothies are much healthier than most pre-made smoothies which tend to be loaded with added sugars on top of the natural sugar in the fruit, whereas this smoothie contains no added sugars."
Ingredients: 1 cup whole milk plain Greek yogurt, 1 ripe banana, ½ cup blueberries or other fruit of choice, ¼ – ½ cup milk or dairy alternative of choice (unsweetened), 1 scoop protein powder
Optional add-ins: nuts, seeds, plain oats, unsweetened dried coconut 
Blend all ingredients until smooth and stir in add-ons as desired. 
Shutterstock
Peach Overnight Oats from MS, RD, CDN Abbie Gellman
Overnight oats are excellent for those busy mornings when you don't want to think about your breakfast and would rather grab something premade and healthy from the fridge. With a great mix of macronutrients and the addition of fruit, this meal will keep you full and satiated throughout the morning so you can focus instead on your busy life. 
Ingredients: Rolled oats, canned peaches, chia seeds, cinnamon, unsweetened almond milk, salt, vanilla extract
Shutterstock
Key3 Smoothie from RD Kylie Ivanir
Cauliflower is one of the most versatile vegetables and can easily be thrown into smoothies for a serving of veggies without affecting the flavor. Protein is great for keeping you full throughout the morning while feeding your muscles for easy weight loss, so this smoothie is the perfect creamy staple to break up the monotony of breakfast. 
Ingredients: 1 cup plain unsweetened coconut milk, ½ cup organic coffee, 1 scoop chocolate protein powder, 1 tbsp MCT oil, 1 tbsp ground flax seed, ½ cup frozen cauliflower rice , 1 tsp cacao nibs for a crunchy topping
Blend together and enjoy!




Source link Fit Fast Breakfast