As a teenager Steve Johnson was on course to compete in road races in the Olympics, something the people he trained with achieved.
But he lost his devotion to the sport and instead spent many years out of the saddle, seeing the pounds pile on as he worked as a builder and tucked into high-calorie meals.
Two years ago, tipping the scales at more than 21 stone, Steve decided to change his life and got to work losing weight and regaining his fitness.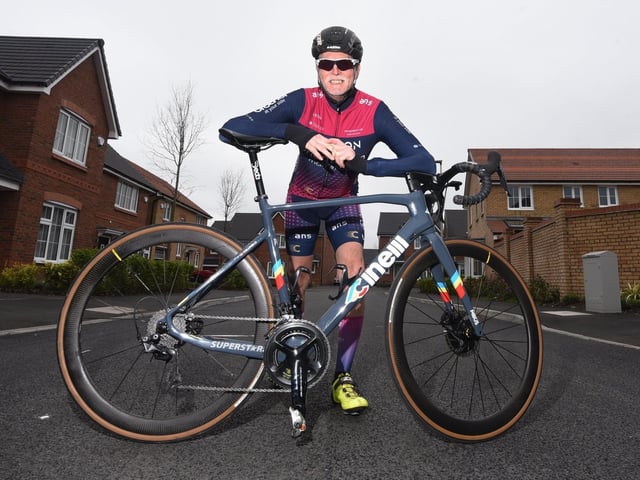 Steve Johnson is back on his bike and aiming to compete in Australia
Now weighing 10st 7lb, the 62-year-old is hoping to qualify to represent Great Britain in an age-group world championships in Australia in 2022.
Steve, who lives in Hindley Green, said: "It would be massive to represent my country. It would be the achievement I have always dreamed of because I didn't go to the Olympics when I was a kid."
Steve still has photographs and medals from his cycling success as a youngster, when he says he weighed around nine stone.
But he stopped cycling before he made it to the Olympics, as he wanted to drink with his friends rather than wake up at 5am every day to train.
Steve Johnson before losing weight
Over the years the weight piled on as he stayed away from cycling and picked up unhealthy habits.
He said: "My life was getting up in the morning, going to work with no breakfast and then at 10 o'clock having a full English breakfast and then a chippy lunch. At three o'clock I went to the pub, drinking as much as I could get down my neck before my wife picked me up at seven.
"Then it might be curries or a Chinese takeaway for tea."
But two years ago he decided to change his ways after the death of his mother and so he could be around for his two step-children and three grandchildren.
Steve Johnson had hoped to compete in the Olympics as a teenager
He does not know exactly how much he weighed then, as he stopped stepping on the scales when he passed 21 stone.
He overhauled his diet, which is now mostly plant-based, and stopped drinking, having just the occasional glass of wine now.
Steve said: "I actually eat more now, but I eat the right things.
"I cut out all heavy carbs, so I don't eat any potatoes, rice, bread.
"I looked at the packaging when I went to the supermarket and didn't buy anything with more than three per cent fat in it. I don't eat any processed food.
"I just learned what would help me and the weight started dropping off me."
To help him with his weight loss, Steve Johnson joined the gym at Leigh Sports Village, but admitted it took him several attempts to gain the courage to walk in as he felt so embarrassed.
Steve has now transformed his life. He no longer needs medication for his blood pressure, has reduced his waist size, which was previously 44 to 46 inches, and has just 11 per cent body fat, down from 42 per cent.
He said: "My life is great now. It's never been better. I can run and cycle and I can do my shoelaces up.
"I couldn't cut my toenails before and I couldn't buy clothes to fit me. Now I still can't buy them because builders' clothes start at 32" waist and I'm a 30" waist.
"The biggest expense to me was the cost of clothing when I lost weight. It cost me hundreds and hundreds of pounds."
Steve finally got back on his bike last year, which he described as "horrendous", but he persevered and soon fell back in love with the sport.
He now cycles around 300 miles a week and in September he cycled more than 1,100 miles from Land's End to John O'Groats.
Steve now rides with British Masters Cycling Racing, which provides competitive cycling events for people aged 40 and over, and is aiming to qualify for an age-related world championships taking place in Australia next year.
Steve said: "I'm 100 per cent determined to qualify for Australia. I will be 63 then and it's a massive achievement for a 63-year-old to qualify to represent their country.
"Providing I don't crash or anything happens, I should qualify."
And as he focuses on achieving his dream, Steve is also determined that he will never be obese again.
"I will never go back, it's as simple as that," he said. "I'm hooked on my lifestyle.
"It's not something you just do and forget about, to lose the weight and keep the weight off is a lifestyle."
Thanks for reading. If you value what we do and are able to support us, a digital subscription is just £1 for your first month. Try us today by clicking here


Source link Fit Fast Breakfast